10/30/2009
Dear Family,
I already said a little about this, but on the way into work - since our typhoon is over with - the thought came to me about how it took all of you praying for Gabe & Amber and the wedding to get things done! Hurrah for the Vergil's, the Bartling's, the Fitz's, the Iongi's, the Peter's and don't forget Josh the Marine. :) The grand kids had the adults out numbered, so they get the most points.
The prayers of many will help each individual - if you have a need, let it be known!
Thank you and God bless all of you,
Mom Fitz/Carolyn :)
<![if !supportEmptyParas]> <![endif]>
10/30/2009
Hi Everybody,
Just in case the news of the latest typhoon got on tv there, I thought I'd let you know how things are here. The typhoon made landfall yesterday early evening with the winds building and the rain beginning. We awoke early this morning, hearing it howling and rattling the windows. By about ten o'clock, it had gone by, leaving slightly overcast skies and no pollution anywhere. We came up to the office at about 11 o'clock. There were some damage to trees along the route, but that was all. The cable connection was down on the tv, so we don't know what happened overall. But, it is a peaceful day in the neighborhood. Take care. E/Fitz
<![if !supportEmptyParas]> <![endif]>
10/30/2009
Hi Kids,
Go to this link right away and click on where it says "Flash Loop" it shows you the movement of the typhoon.
We are grateful that you all were praying for us while we were praying for you. When we called this morning,
the typhoon had just started to rage. It was a fast one with winds 130-160 and very little rain on us so we
are very grateful. The eye of the storm just missed us by about 50 miles so that's about as close as I want!
Other areas have gotten the rain so don't know if there are any damages yet. We were afraid that the power
and signal would go out while we were trying to talk to you.
You all remember the snowstorms on the Farm and how the wind would howl - well, this was like that and
then some!!!!
What a blessing and miracle to have everything and everyone come together for your wedding Gabe & Amber.
We are grateful for all of you and your love and caring for each other. See - it really makes a difference.
Love and hugs,
Mom & Dad :)
<![if !supportEmptyParas]> <![endif]>
10/28/2009
Dear Family & Friends,
Thursday morning and another bright, sunny day in Quezon City. We have gone nearly a week without a heavy rain, so much of the area has had a chance to dry out. About a week ago, on Saturday morning, we went out early to Pasig, a neighboring city that got hit pretty hard by Ondoy, and joined with about two hundred members from local stakes on a service project. It was to cleanup a residential street off one of the major streets near the downtown area. It still had 3-6 inches of water in it in a few places. The flood waters had come through and left a lot of trash and debris. We wore knee boots and gloves, as the water and muck was badly contaminated; on this particular street, the waters had only been about four feet deep and most of the homes had been shoveled out. The city furnished the big trucks to haul the debris away, and it took about three or four hours to clean about 3/4 to a mile of street. We got home, tired and a little sunburned, cleaned up, and spent the rest of the day, getting ready for our flight the next morning to Palawan, pronounced Pa la' wan. The domestic airlines here are spotless and travel friendly, and we enjoyed the hour flight to the long, narrow island, south and west of Manila in the South China Sea, Sunday morning. That area of the Philippines seldom experiences tropical storms, but could be quite vulnerable to a tsunami, as the land bordering the sea is relatively low. There are hills and some mountain peaks, and all are covered with the tropical undergrowth. We stayed in the Provincial capital, Puerto Princesa. It is spread out over a number of miles north and south and has a population of about 250 thousand. Something that is typical of Asian cities is from the time homes sprung up around a small cluster of businesses, encircled by a network of small, winding streets and residences, new little businesses formed encircled by more residences, and etc. on outward. About every four or five blocks, you see what looks like another town, with its own networks of winding streets and residences. It is often difficult to find your way to a particular address, especially for foreigners. The easiest way to get to a particular church, address, or business is to ask a trike or taxi driver. When it appears to be difficult to follow the directions, I just hire one to lead me there. To go four or five blocks is only about 30-40 cents, but with few street signs and literally dozens of little streets winding every direction, if you really want to find a place, you do it!!! The people want to be helpful, but often, you can find yourself a few miles from where you want to be.
Puerto Prinseca (the c sounds like another s) may be the cleanest city in all of Asia. A real effort is made to keep it that way, with announcements at the airport and signs on the streets of the $6 fine for littering. The city is almost totally free of jeepneys, so traffic is busy but quiet. It seems as if there is a trike-for-hire for every person on the street, but it makes it so easy to get everywhere. We made the trip with Manny, Sister J. and two young men, who are computer technicians, really fun, cute boys. We went to Church and held a training with a large group of leaders, FHC Directors, and Consultants later that afternoon. Our next training was not until Tuesday, so Manny scheduled a van tour out to one of the wonders of the world. About two hours north, at a beautiful beach is an opening to an underground cave that extends about five miles back into a mountain. It is an underground river and navigated by 30 foot long boats, paddled by a boatman. The cave is pretty spectacular, with huge ceilings, with stalagmites and stalactites. The trip in is only about 3/4 of a mile, but quite an experience. We got back and went island hopping to two beautiful, small islands out in Honda Bay. The ocean was mirror-like and a gorgeous blue. We had a delicious dinner in a nipa hut and fed schools of fish. Got a little sunburned again, but will recover fast.
The training Tuesday went well, and we left Wednesday morning for Manila. What a wonderful trip!! Now that you are jealous as heck, let me say that we wish you were here, and we hope the cold, snowy weather isn't getting you down. We watch the weather news, but it is for Hanoi, HongKong, Singapore and Dubai!!!! It is sunny and in the upper 80's there, today, too. (It is a 17 hour flight from San Francisco to Manila). Any takers?
Well, got to go. Take care. Tell someone you haven't told lately, you love them...
E/S Fitz
<![if !supportEmptyParas]> <![endif]>
<![if !supportEmptyParas]> <![endif]>
10/28/2009
Dear Kids,
I love this power point because it makes me think of my grand kids and their sweet voices and love for Jesus.
Our hearts are filled with love for each of you. These are truly the best of times and the hardest of times. The
times that try men and women's souls. Stay close to the Savior, for His love and grace and protection is sufficient for all our families, to see us through challenging times onto those of great joy & happiness.
Stay close to each other for their is also safety, compassion and great love to bind the wounds, heal the
aching hearts and help to lift the burdens that weigh heavily on the shoulders.
Please take time for Jesus and for each other.
Love always,
Mom :)
<![if !supportEmptyParas]> <![endif]>
10/23/2009
Dear Family & Friends,
I didn't expect to be here at the office this morning; but our trip to Northern Luzon got cancelled late yesteday. The typhoon that was expected earlier this week here, Ramil, pronounced "Rameal" bypassed us and is now poised to landfall tonight in the area we were to be in until Saturday afternoon. It is the same area that got hit so hard ten days ago. They don't need a refresher course on survival, but all they can do is button down the hatches and pray.
It has been a little overcast here with light rain on and off the last couple of days, Most are getting back into their homes and cleaning up the debris and damage.
We are busy here, though the packaging and shipping has slowed some. Sunday morning, we will fly to Palawan, about a hour's flight from Manila, a beautiful island in the South China Sea, and come back Wednesday. It will be our first and probably only visit to the area.
The Christmas decorations and holiday music are everywhere now; they get started very early here. It is a little hard for us to get excited with it two months yet before the Xmas season. We are just looking forward to Thanksgiving, which they don't celebrate here. The North American ex-pats, which is what we are officially called, will get together for a big turkey dinner next month. Some Halloween decorations are up, but it called All Saints Day here and emphasis on monster dress is played down. Filipinos just like to celebrate!!
We just talked to Jerry Wilcow in Gering a few minutes ago, and he said that it was the coldest October in the past 110 years there. Anybody for moving to the Philippines? They only expect four more typhoons before the end of the year. I'm not sure that is a very good selling point at the moment.
Sister Fitz says to say hello; she is giving her computer a lesson on speed, and there is so much clicking going on I'm having trouble concentrating. So, take care. We are staying out of trouble, but don't stop praying!! Love you all. E/S/Fitz
<![if !supportEmptyParas]> <![endif]>
<![if !supportEmptyParas]> <![endif]>
10/21/2009
Hi family,
You have all hear of the musical, "Singin' in the Rain", well one of our secretaries, who is Filipino, told us about a "Wedding in the rain" for one of her neighbors. It happened during the first Typhoon Ondoy. A couple
had planned their wedding, & even though there was a typhoon going on, it is considered very bad luck here in the Philippines to postpone your wedding -you get married no matter what!
Does that ring a bell for anyone about Dad & the Soccer Games - did he ever postpone one due to weather??
I think maybe he could be part Filipino. You kids have played in some games in those freezing temps and lived to have your Mom shake her head about! I know Dad wouldn't have backed off from a typhoon either.
Well, as the typhoon's wind and rain worsened, wedding plans and preparations progressed. The wedding vehicle was decorated with flowers, the Bride carefully put on her make-up and dressed in her beautiful wedding gown. The groom decked himself out in his Tux and the Catholic Church, in the meantime, was being quickly flooded from the typhoon.
Grace said that they could look out of their window and see all of the activities - she said it was so funny and so sad at the same time - they laughed and cried both!
The Priest said it was time to start, after all, the water was only knee deep in the Church! So the groomsmen did their duty and picked up the groom and and stretched him out above them like a stretcher to carry him in so he wouldn't get wet. The Bride was carried in the same way, all stretched out so her dress would not get wet - or should I say wetter .....after all, they had just come in out of the typhoon and I don't think that umbrellas had been too much help ....anyway, since the Church was flooding, everyone made their way to the altar & "compressed". Good thing altar's are on higher ground. That is everyone but the photographer - he had to fend for himself in the flood.
Now, the ceremony is over and theBride and groom head for the car, which by now has pitiful looking flowers adorning it. Grace said the Bride looked like a racoon with her make-up all smudged. You'd never know if it was from the rain or tears, or both! The car slowly made it's way up the street, water now above the wheel wells, around the corner and out of sight.........
The one who would have gotten the biggest kick out of this wedding would have been Aunt Sis - I can even hear her laughin' now as she would try to tell the story....
I would love to have pictures from that Wedding!
I say, if the couple made it through that day, they could "weather" anything else that came along in life. Do you think?!
Love ya,
Mom/Carolyn :)
<![if !supportEmptyParas]> <![endif]>
10/20/2009
Dear Jen and Jeremy,
Thank you so much for giving $ for Dad's project here of helping. Natalie said that someone else from
your Ward had also sent a check but she forgot their names. Can you tell us who that was please?
The Missionaries have been taken care of, so Dad is going to ask one of the Bishop's here in the PAO
about some of his families. His Stake was one of those hardest hit with the first typhoon. We will let
everyone know and if possible, take their picture, etc.
There are still food order bags, etc. being sent out from here to the areas around us. There were Stake Presidents
who were also flooded and so that makes the recovery all the more challenging. The Church will probably
move a Command Post further North since that is where the storms seem to want to land. A lot of our supplies
have, of course, been sent up North. We helped with bagging rice and food bags yesterday. They usually put
about 8 cups in a bag and then small cans of Vienna Sausages, Corned Beef, Tuna, Ramen Noodles,
crackers, cookies and candy. They have also sent out boots and shovels for the clean-up.
Ok, I've got an online meeting to go to.
Love you and thank you so much,
Mom & Dad Fitz :)
<![if !supportEmptyParas]> <![endif]>
10/20/2009
Dear Jen,
Yes, Kirtley - a real cool name after the Kirtland Temple. She is in Naga which is about 8 hrs. south so I don't know when we will get to go down there again. I think I have her EM somewhere....... I will try and find it next week when we get back. She would really like to hear from you.
Glad to talk to all of you again. Jayden talked a lot more this time. :)
Dad and I are Indexing and it is 10:00 pm - a couple of hours past our bedtime. Dad is doing New York 1920 Census and I am doing the Philippine Spanish marriages. It is hard, but the more I do it, I am beginning to remember that I've seen that name somewhere before - the Spirit of Elijah really helps out and if you can read the writing you have a chance!
There are records from 1600 - 1980's I think. We have been in several of the old Catholic Churches where the records were microfilmed and that's what makes Indexing them a great challenge. There are 80,000 rolls of film for the Philippines and when we finish these 25 rolls, we can have the rest! It takes me a couple of hours to do a batch of 12-16 names! Have the kids please pray that I can learn how to read the names on the Indexing - I can use all the help I can get!
Love ya,
Mom Fitz :)
<![if !supportEmptyParas]> <![endif]>
10/13/2009
Dear Family & Friends,
It is a bright, sunny morning here in Quezon City; most importantly, it is not raining. We left last week early on Thursday morning, and it has only showered once since. The area needs a few days more to dry out. There are some areas, however that it will take months for the waters to recede, especially in the Lake Laguna province. Where we were (in the north) the week the typhoon Ondoy hit here in Central Luzon, Typhoon Pepeng dropped about twenty inches, and they were inundated by floods. The roads to the Northern Provinces were blocked by either water or mud slides. Baguio was totally isolated for several days. It is the mountain city we visited about a month ago. That typhoon stayed east of the islands until it hit the extreme northern coastal province. It dropped a lot of rain, continued north out into the ocean, made a u-turn, came back across the same area, made another turn, and crossed the northern region east to west. Much of the rice crop was ruined for this harvest. After the water drains away, they will plant again. Now, we are sending supplies north!!! Loy, who we like so well here and who went to Cebu with us, went back home to Baguio after our return, leaving a 8:00 Monday night. When he got near home, he had to walk almost eight miles because of the landslides to get home. He arrived at 2:30 A.M. He is a Bishop and had to miss this week here in order to take care of his Ward.
Our flight Thursday, which was only an hour long, took us to Cebu City on Cebu Island. It is a long, rather skinny island, running north and south. We held a two day conference there, saw the Cebu Temple under construction, and visited the site where Lapu Lapu, a native chief, ended Magellan's career. We took a boat on to the Island of Bohol, a two hour cruise, and stayed in Tagbilaran, where Manny met with a local Catholic priest to arrange a discussion to microfilm the Parrish records on the far side of the island. Returning, we visited the famous Chocolate Hills, naturally formed, volcanic rocks that look like haystacks dotting the area. They vary in size, but most are about 100-150 feet high. An American, who saw the site some years ago in the dry season, said they looked like chocolate (since the short grass on them was brown). It stuck, and that's how they are now known. They are quite unique. We visited the oldest church in the Philippines later that day. It was built in 1565. It faces a beach and is a beautiful site.
We flew back the next afternoon to find things improving here. It was a wonderful trip, but we are glad to be home. Our manager said this morning that our next trip will be in about two weeks to the Palowan, another beautiful island west of Luzon. Doesn't Puerto Princesa sound like an enchanting name for a city?
Tuesday morning. We spent the afternoon packaging food bags and moving new supplies into the downstairs parking area. We finished the day too pooped to pop and
headed home, so I am finishing this before I make a run to Manila. While we were in Tagbilaran, we were so struck by the efforts of the people to keep Christ in the forefront of their lives. Almost every other trike, jeepney, and bus has a message painted on it like: God is Love, Christ is King, Lord bless Us, or etc. There was such a peaceful feeling in the streets. On one of the construction barricades in the street, it said, "Our apologies for the inconvenience." On the marque of our hotel, it reads, "Gracious living, where virtuous service need not be expensive." The concern seems to permeate most aspects of their lives. The extremes are evident also, as the paper reported the 77th assassination in the Zambales Province that has taken place over the past couple of years.
We appreciate the help that we have received; there is still much need. We hope you are all well and taking good care of each other. We send you our love. E/S/Fitz
<![if !supportEmptyParas]> <![endif]>
10/12/2009
Hi Kids,
We are back to our apartment here in Manila so thought I'd give you a short EM tonight before I head off to bed because it will be morning for you now.
Dad will write his usual family letter when we get to the office in the morning. We had a good trip and things are doing better here around Manila with a week of sunshine coming up so that will help to dry things out.
Love and hugs and thanks for all your prayers, they are working!
Mom :)
<![if !supportEmptyParas]> <![endif]>
10/5/2009
Dear Family and Friends,
We are here at the FHC this morning, Carolyn is sorting clothes donated by the Branches and Wards in the Philippines. Another shipment of food stuffs and hygiene items is due to arrive, so we came in early to help bag them. Much has gone out, but there is much yet to be done to relieve the need here. The second typhoon never made landfall until it hit the Northern tip of the Island. The Northern third got lots of rain and some wind, cancelling Church and closing schools, but the serious damage only took place on the upper end. Reportedly, there were 17 deaths, but we have not seen the pictures of the damage there, as of yet. Fortunately, it is sunny today, so the areas here are drying out. Many families are displaced. One Stake Center has a thousand people from that neighborhood housed there. 38 Chapels have some damage, from water ten feet deep to floors just covered with a few inches of dirt. Those not seriously damaged are being put to good use.
The parking garage here, which is about the size of a large basketball gym, is the center for the shipments of supplies. Some of the people who we work around here lost everything. But, they have jobs and perhaps some savings. The relief is going out to people with nothing left. I have difficulty sleeping, thinking about those whose only beds are the cardboard boxes we break down when we empty out the contents to bag and ship out. Volunteers come in from around the MetroManila area to help us bag. The govt. is criticized for not providing more relief, but there are so many to help, and their resources are quite limited. The newspaper several days ago said that President Arroyo had authorized a thousand pesos to be given out to each family who was in need. That is about twenty dollars. That would feed a family with rice for about a week or ten days. It will take the govt. agency days and maybe weeks to get that money to them.
I hope that each of you will join with us and help in some way. Even twenty-five dollars will help. Today, I hope to get out to a shopping center and see what padded matts cost. Maybe, we can get a few families off the hard concrete floors. I will include my account routing number for those who would like to donate and transfer some monies, or it can be given or sent to Natalie at our home address to deposit in our Alpine Credit Union account, or dropped off to Alpine Credit Union and deposited into acct. # 05058070. The fast offerings is another way; that, of course, takes longer to reach those suffering. I would be happy to hear your feelings on the situation.
One miracle story. A marooned sister climbed onto the first story roof of a neighbor's home when the flood waters began to rise. As the water rose above that level, she was unable to reach the second level roof. Before she was swept off, a ladder floated by. She grabbed it and climbed to the upper roof to safety, an answer to her prayers.
I will try to keep you informed on how things are progressing here. We appreciate all your prayers. E/S Fitz
<![if !supportEmptyParas]> <![endif]>
10/3/2009
Dear Kids,
The storm has passed and the sky is trying to clear up here on our Sunday morning. We did get a little rain and some wind. Baguio is still getting a lot rain and wind 148 mph as the storm is slowly moving out to sea.
We will be going out to our Del Monte Branch around 11:30, we haven't been there for a couple of weeks. They were not flooded but helped with surrounding area. It takes about an hour to get out there. This is where our friends went last Sat. to hold a Training and fortunately got to a McDonald's for refuge for 7 hours til they could leave for their apt.
Thank you all for praying for the storms to clear and people to be helped. We are getting in more supplies at the Office, so should be busy next week, which is good to have food stuffs to bag up and sent out. There are groups coming over all the time to see what they can do to help.
We got Conference on the Computer, so that was great! Hope you all can watch too. I know the men will be taking their sons to Sat. night session here pretty soon. Dad misses being able to take you guys and then out for a treat later. Thank you for taking care of our grandsons and teaching them about the Gospel of our Savior Jesus Christ.
Love to all & thanks for your prayers,
Mom & Dad :)
<![if !supportEmptyParas]> <![endif]>
10/2/2009
Good news for the people here in the MetroManila area. The typhoon never made landfall and is now heading for the upper tip of Luzon. Pray for them. Will keep you informed. E/S/Fitz
<![if !supportEmptyParas]> <![endif]>
10/2/2009
Thought you might appreciate this picture.
Manila Temple-A Refuge From The Storm
<![if !supportEmptyParas]> <![endif]>
<![if !mso & !vml]>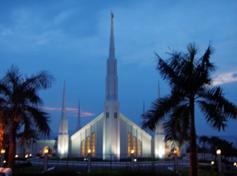 <![endif]>

REFUGE FROM THE STORM

This picture was taken at 5:30 Tuesday morning following the devastating flooding from the typhoon. The Temple truly is a "Refuge From The Storm". This morning inspite of 13 hour trips returning to their homes on Saturday and flooding in most homes, many devoted temple workers were back again to serve. And we recognized those who simply came to express gratitude for what they still have. We have learned over these past months of serving with the Filipinos that they truly understand the significance of the statement "A Refuge from the Storm" in regard to the temple. We love their constant example to us and wanted to share their example with you.

E/S/Fitz

<![if !supportEmptyParas]> <![endif]>

<![if !vml]>